Wishing everybody a very Merry Christmas and Happy Holidays from all of us
Flock Together
Gals! We wanted to share with you our secret santa gift exchange we held to spread some love and holiday cheer. We hope you're having an amazing holiday spent with friends and family!
Ashley of
Southern (California) Belle
: I recieved this super cute Secret Santa gift and I was so happy to see it was from the always lovely Marisa of
Shades of Monet Chronicles
. I have to say she picked out the perfect dress for me. I love the print and the open back, she knows me well! This Christmas I'll be celebrating with my closest friends and family. Oh, and I'll also be celebrating my birthday :)
Rachel from
Floral Prints and Common Sense:
I got my dress from Jessica of
Midwest Muse
! I've always wanted a cut-out dress, and I love birds on pretty much anything. I can't wait til summer when I can wear these cut-outs to their full potential! This Christmas I'll be keeping busy with sewing and painting for the etsy shop I'm hoping to launch in January!
Elana from
Room 334
: I got this lovely pleated number from Erica of
Sweets and Hearts
, which was wonderful to discover considering I'm in love with Erica's taste in clothes. I've never been one to wear pink, but this dress is so pretty and soft that it's enough to change my mind about the color. This Christmas, I'm excited to celebrate over three days with my brothers and their adorable kids!
Katie of
Butterfly Love Snapdragons
: I got a very classic button down plaid dress from the lovely Dusana over at
Cuddly Cacti.
I was so excited to style it and had fun mixing some modern and vintage pieces together. I really liked the combination of dark green and mustard :) I already had my family Christmas, which consisted of my favorite little nephews and European chocolates, but I'm excited to hang out with my in-laws on Christmas Eve and to get acquainted with their new kitty!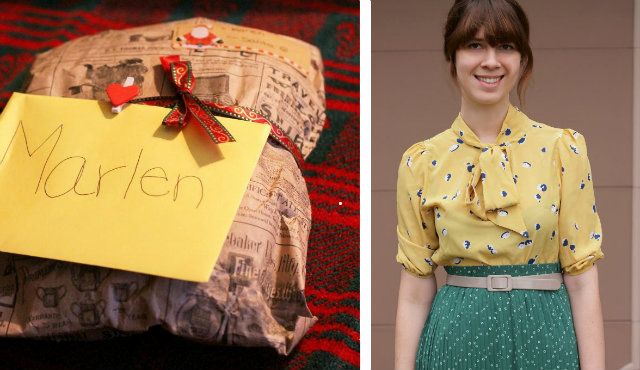 Marlen from
Messages on a Napkin
: When I got this present in the mail from Ashley of
Southern California Belle
I almost didn't want to open it because it was so pretty! I just wanted to put it under the tree and admire the cute vintage newspaper wrapping and festive bow under the Christmas lights. But curiosity got the better of me, and when I saw this apple print shirt I was so glad it did! The pretty bow and the slightly puffed shoulders are
exactly
my style, and it's quickly becoming my favorite piece in my closet. For Christmas Eve we're having a traditional Polish holiday dinner, using recipes my great-great grandmas used to use. Very old-school :)
Hello! Jessica from
Midwest Muse
! I was so thrilled to get this dress from
Jessi
. It's right up my alley: it's colorful, it shows off my back tattoo and it's comfortable. Her wrapping paper and card were both handmade and adorable!
Merry Christmas Eve darlings! It's
Marisa
, here and I couldn't have been more tickled to find out that my Secret Santa gift came from
Hannah
. Not only did my package from her include the cutest jewel-toned vintage babydoll dress (I'm smitten with that collar), but she also sent it along with the sweetest little plush owl. Yes, this doll has by number completely :) Tonight, I'll be celebrating a traditional German Christmas Eve dinner with my family, full of plenty of yummy recipes that were my grandmother's. Bring on the Pffeferkuchen my dears!
Hello! Hannah of
The Braided Bandit
here! I absolutely love this time of year because its full of surprises! This AMAZING floral tapestry blazer was my surprise gift from my lovely Secret Santa Marlen. I could not have asked for a better santa as
Marlen
has my style nailed and is super sweet and funny to boot. For Christmas, I am fortunate enough to be spending it with my family in Kona, Hawaii!
Merry Christmas everybody; this is Kristian from
Never Fully Dressed (Without a Style)
. Look at that adorable hand-drawn card and hand-stamped tissue paper! You can imagine my delight at getting this from my Secret Santa- the incredibly talented Rachel of
Floral Prints and Common Sense
. Inside the wrapping was this buttery yellow shirtdress. Thanks Rachel! Hope you all will be enjoying Christmas. This evening my family will gather round and we'll be doing our gift-exchange followed by a viewing of White Christmas, and I'll be sharing a big meal with my family, the Boy and
his
family on Christmas Day. Wishing you the merriest!
Hellooo, friends! Secret Santa always terrifies me a little (I've had bad experiences in the past...usually involving lots of smelly bath stuff), but I knew the
Flock Together
girls would have exceptional taste and that I could trust them (I mean, look at all the pretty things in this post!). When I received this crazy colorful confetti-filled package from
Kristian
, I knew it was going to be a good one. Polka-dots and a cute collar--I'm sold. Duh. Total win (thank you, Kristian!). I'm looking forward to spending time with my family during Christmas. My sister is visiting from Chicago (yay!) and we have lots of trashy television to catch up on, as well as tons of fatty/delicious food to eat. I love the holidays. Hope you have a great week!
Hope you're all having a merry and bright Holiday season!! Recieving this gorgeous vintage piece definitely added to my joy! I REALLY admire
Katie
's taste for classic, timeless items and her always lovely style so I was thrilled to recieve a gift from her! She knows me so well, I have an ongoing obsession with velvet and emerald is a favorite hue! Have a wonderful Christmas Eve!! I'll be spending lots of time with my sweet Hubby and both our families.
Elana sent me this little dress and of course I couldn't help pull out my green tights for early Christmas celebrations with family on Saturday; the dress is just too perfect not to! When I was swooning over how cute the pleats were to my hubs he commented that it was really cute but not something I'd usually wear, and that's the best thing about gifts in my book! It's always great to see what someone else picks out for you, and even better when it's something love but different than your usual wardrobe. Elana got the sizing spot on and left a sweet note saying she thought the color would be great on me; thank you so much Elana! Now I only wish I'd gotten a shot of the full thing without my blouse but oh well, enjoy your holidays everyone
with family everyone! I hope you have lots of truly special memories from this year!