Since wedding season is upon us, and one of our own,
Kristian
just tied the knot, we thought what a better style challenge than what to wear to a wedding!! Weddings are always a fun time, and it is always fun to get dressed up for them, so lets see everyone's take on what to wear to a summer wedding.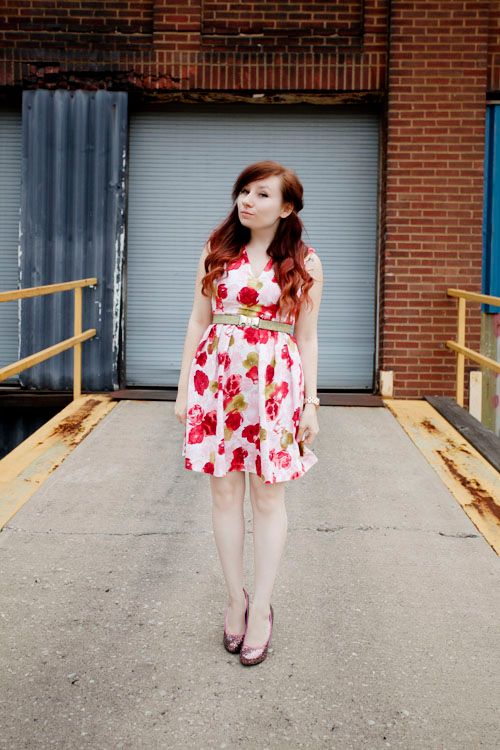 Jessica of Midwest Muse
I admittedly haven't been to a lot of weddings, but the ones I have attended have either been SUPER traditional or totally off beat -- like with a carriage into the middle of the woods and a peacock feather bouquet. Which means I've never truly had to dress the exact wedding part. Which is fine because I don't dance or drink or do most things weddings require. So, it was really fun to dress myself up for a summer wedding. This BB Dakota dress that I thrifted is definitely the perfect wedding dress. For me, a wedding means a semi-fancy dress, simple but classic jewelry, and a comfortable pair of shoes. Done. Done. and Done.
Jenna of Smitten
Hey there it's Jenna from
Smitten
!! I actually do have a wedding to go to at the end of July which I'm super excited for, it's my best friends brother so this was the perfect challenge for me! I have a few dresses I am still deciding between, but I'm really leaning towards this one. It's going to be stinking hot out and this dress is soo lightweight, comfortable and has pockets. The cut out details on the back just add extra air conditioning, am I right?! Besides the dark grey colour is perfect for fun accessories like this chevron print purse and bright teal heels :)
Ashley of Southern (California) Belle
I guess when you're my age it feels like you're going to weddings every weekend. I'm not lying when I say I went to one just last night! While I can do an entire post on all my different wedding outfits, this Ruche chiffon number really holds a place in my heart. I wore it in Hawaii where the weather is humid and you'd wear anything to stay dry. Luckily I picked the perfect dress. I danced the night away without a single worry :)
Erica of Sweets and Hearts
Dressing up for weddings is always so much fun--especially over the summer! This is the outfit I wore to my friend Nathalie's wedding last July in Chicago. I wore a blue floral dress from ModCloth (which I got in a swap), and I styled it with a taupe sequin jacket and nude wedges. I ended up taking the jacket off during the reception because it was really hot and humid, and it's not much fun dancing when you're all sweaty. For summer weddings, definitely look for lightweight dresses if you're going to an outdoor wedding that's somewhere hot.
I've been to my share of weddings in the past few years. I always enjoy picking out a joyful ensemble to join in all the festivities that go with the occasion. When I think about what to wear, I like to keep things simple. You don't want to look like you're an outcast bridesmaid wearing overdone hair, makeup, etc. Most of the weddings I've attended have been in the summer, so a simple dress and comfortable wedges is the way to go! I like to wear something with a high neckline and nice straps so I can dance and stay modest while doing it. If there's a cool breeze, one can't go wrong with a fun shawl or scarf and a classic trench coat!
I'll admit that it's been a while since I've gotten to pick out a dress for a wedding. If I'm remembering right, the last three weddings I've attended were as bridesmaids. As much as I've loved supporting my family and friends, it's always slightly disappointing not to attend as a guest and, most importantly, pick out a dress. Because of that, I used a recent guest post for Kristian about I would wear to wedding as an excuse to dress up. This vintage green floral number doesn't get much wear from me unfortunately, but it's perfect for a wedding. It's sweet, appropriate, and comfortable. And of course, a good nude pump always helps. While it's strange that I'm starting to get to that age where friends are getting married, I'm exciting to finally start dressing up for the occasions!
Ho-lee cow has my hair changed in a year, haha! But with my dizzying array of hair styles aside, I ususally stay true to my vintage style when whipping up what to wear as a guest to a wedding. Formal gowns have never really been my thing (unless they look like something Betty Draper would don), so I usually go for floral, frilly maxi dresses in formal materials like chiffon or lace. Add a string of pearls for a touch of class and you're ready for a night of champagn and celebrations!
It seems like I know so many people getting married right now but surprisingly, I haven't been to a wedding in quite a while! I do however, always love a reason to dress up! Is it just me or do weddings call for romantic ensembles? I mean, weddings are by definition romantic and I like to dress for the occasion! My usual style can be described as somewhat romantic and girly anyway so I have no trouble finding something to wear! I think this lovely floral frock would be perfect for a summer wedding paired with my favorite flirty heels!

I've only been to one friend wedding ever (and two family ones that were one and two decades ago), but hypothetically this is something I'd wear to a summer wedding in Phoenix. It got up to 118 degrees yesterday so any sort of layers/maxi things are really out of the question. Or at least in my book. But I still like to keep things classy for weddings, and like how this little number is short but not too short, and sleeveless but not at all revealing in the neckline. And I should add that it's again hypothetical because I don't hear of many summer weddings in Phoenix and am so jealous of people actually enjoying nice weather and outdoor activities right now!
Hope you all are enjoying your summers! We'd love to hear/see your wedding style so leave us a link if you have any. Thanks for following along!