Katie of Butterfly Loves Snapdragons is a small town girl living in South Dakota's largest city. Above all else Christ is the center of her life and she blogs daily Bible verses as the ultimate source of inspiration. On a more aesthetic level she loves to take photos that will one day confuse her grandchildren as to what era she lived in. With a walk in closet filled with thrifted vintage Katie could spend all day coming up with ensembles not so practical for her life as an afterschool program teacher. Her favorite pastimes are spending time with her family (and two precious nephews!), thrifting and vintage shopping, and spending time having adventures with her wonderful husband, Sean.
Hannah of
The Braided Bandit
is a lover of unplanned adventures, pretty vintage dresses, and like most bloggers, anything having to do with kitties! She works full time in the environmental field, but her true passion lies in hunting for the perfect pieces to fill her online shop,
The Braided Bandit Vintage
. She loves thrifting and recently started altering most of what she finds for a more modern fit and style, merging the world of vintage and current fashions. When Hannah isn't working, sewing, or blogging, she also loves a perfect latte, traveling, a long bike ride, photography, and exploring the beautiful mountain scenery around where she lives in Boulder, Colorado.
Dus blogs at
Cuddly Cacti
is a lover of travel, eco-friendly & frugal living, thrifted & artisan finds & her native Sonoran desert, where she currently resides. When she's not found at her full-time job or in night class for her masters, she can be found taking far too many pictures of her recently-adopted kitties & dreaming about new trips & adventures with her South American hubs. Oh, and drinking far too much coffee amidst it all.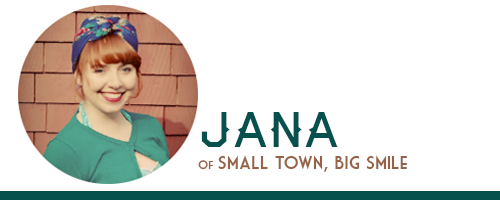 Jana of
Small Town, Big Smile
is a 30-something "Maritimer" from New Brunswick, Canada, who's addicted to teacups, dresses, twirling (which goes hand-in-hand with dresses) and most-things-vintage. Living in a small town wasn't always her cup-of-tea, so after venturing out to cities throughout central and eastern Canada, studying Interior Design, she's now a Marketing Assistant in a neighboring small town to the one she grew up in. In the select warmer months, you can find her and her soon-to-be hubs out on the motorcycle or in their porch listening to records and sipping whiskey, cuddling with their three fur-kids.
Jessica of
Midwest Muse
is a twenty something Akron, Ohio based creative writing major. She likes pretty photos, pizza, road trips, live music, being coffee drunk, and colored tights. Her blog is a combination of daily life, style, and beautiful photographs. She digs music. A lot. Some of her favorites include Saintsenecca, Margot and the Nuclear So and So's, all things Tim Kasher, and River City Extension. TV is also her jam & yeah, she's still mourning the end of Breaking Bad.
Kristian writes at
Never Fully Dressed (Without a Style)
. A 20-something Wyoming girl, she hails from a land of big skies and small population. Luckily, that small population includes her family, several fox terriers, and a certain Boy she can be adorkable with. A lover of children books, tea, and skirts that twirl when dancing, she tries to find adventures of all sizes where she can. Her blog is sure to be chock full of posts about mail, old movies and personal style.
Elana of
Room 334
is a Southern California native living in the Midwest for college to study fashion merchandising and journalism. Like most of the fashion blogging community, she loves all things vintage, thrifted, and feminine. Other than convincing her loved ones to take her photos, she loves having an unhealthy addiction to all things pop culture, coffee, and sarcasm. When she isn't talking about fashion, she can be found rambling about Breaking Bad, Arrested Development, Quentin Tarantino, or Wes Anderson.
Marisa of
The Shades of Monet Chronicles
is a vintage loving gal who resides on a cozy little mountainside in Pennsylvania with her husband, son, and two little cats. She adores writing music, reading Hemingway, musical instruments, and kayaking the lake. Along with that, she has a weak spot for anything 90s related, old movies, baking sweets, and a band called Keane. On the weekends she can be found exploring the uncharted countryside or wandering through the streets of Philadelphia with her dapper fella in hand.
Ashley of
Southern (California) Belle
is a surgical technician who lives in Los Angeles, California. She loves to wear pretty dresses, eat her vegetables, and watch Nick at Nite with her two adopted chihuahuas. When not at work or on her computer, you can probably find her at the movies, at a concert, or checking out a new restaurant with her husband.
Erica Leigh of
Sweets and Hearts
is a twenty-something fashion marketing grad born and raised in Southern California suburbia. Her style is feminine and vintage-inspired with a modern twist, and a bow can usually be found somewhere on her body. She loves wearing bright colors, sheer fabrics, fun hats, and novelty prints, to name a few. In her spare time, she enjoys reading, writing, sewing, photography, wandering around, and hanging out with her friends whenever possible.
Oh hi there! Let me introduce myself... my name is Taylor Hart. I blog at Nothing But a Pigeon. I'm originally from the Midwest but moved to Austin with the Mister and pups a little over 6 years ago now. We live on the Eastside of Austin in a "green community" with a big ol' backyard garden and chicken coop. I'm the owner of my very own little crochet company called "Nothing but a Pigeon." I design and crochet faux taxidermy. I know.... it sounds creepy but it's in fact quite adorable. I've been pretty blessed with the opportunity to start my own business venture and I just love being able to work from home and spend time with our pups Lucy & Sophie. When I'm not crocheting my little heart out you'll find me selling at trade shows and blogging for my very own fun little lifestyle blog also called "Nothing but a Pigeon". In my blog I share my love of crafts, fashion, gardening and everyday life living in the fine city of Austin.
Sammi of The Soubrette Brunette is a singer, actor and compulsive shopper from Upstate New York. The ultimate girly-girl, Sammi loves all things retro, kitschy and adorable, and she can't say no to a good novelty print. Sammi is a steadfast believer that a girl can never have too many dresses, and her ever-expanding wardrobe is living proof. She is a lover of Earl Grey tea (with soy milk, please!), puppetry, black licorice, and all things silly. When not in rehearsals for various shows, Sammi can often be found working at her box office job, taking full advantage of her Netflix subscription by hosting her own Law & Order: SVU marathons, or attempting to make her persnickety calico cat snuggle with her.