hi there, I'm Priya, reporting to you live from perfectly Priya
Priya
I'm so excited to be with you on Flock Together today! I love following along with these lovely ladies to see their unique styles swap and interact. The Flock Together bloggers consistently inspire me to try something new!
with that, I present to you a remix: of my beloved "sweatskirt." when I considered pieces for this remix, I realized that my previous remixes typically centered around a basic item, like a jean jacket or brown boots. my sweatskirt is definitely more on the quirky, statement side. when I bought it, the reasoning behind it was "I can wear sweats anywhere now and no one will even notice." and with the recent upsurge of "dressy sweats", a sweatskirt is right on trend. I haven't been brave enough to try the full-on sweatpants to work look, but my sweatskirt is my secret attempt. bonus: I've now styled it in each of the four seasons. let's take a look, shall we?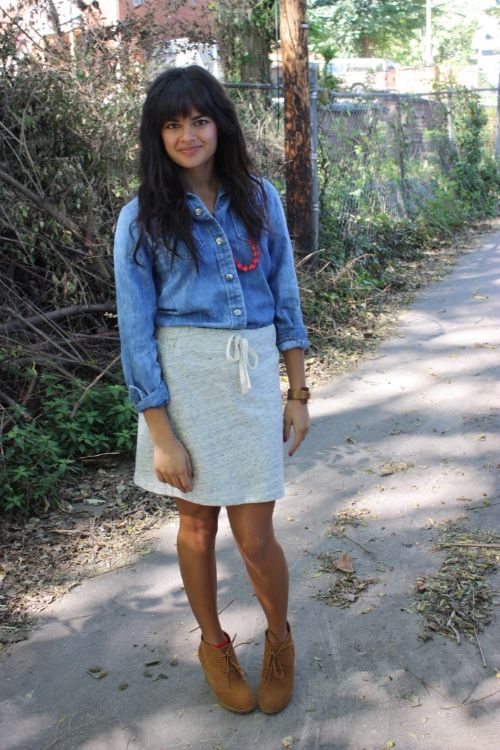 for fall: this was my first attempt after the initial new purchase excitement and subsequent styling woe freak-out. I was still in college, where wearing sweats to class is commonplace; but I loved that these sweats had a classy twist. I settled on the workhorse in your closet & mine, a chambray shirt. I love the combination of these fabrics together, and would definitely wear this again for a casual weekend look. also, hello bangs!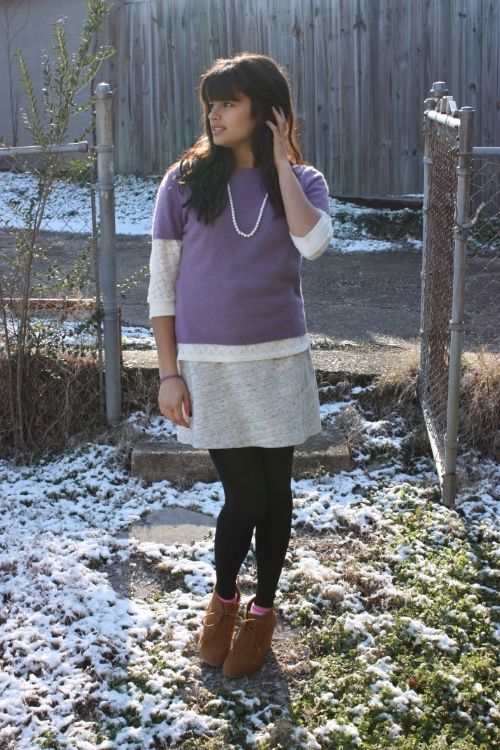 for winter: I went with some funky layering here, which in retro, not digging the silhouette all that much. but when you're a California girl dealing with snow for the first few times in your life, multiple shirts are the only solution. I borrowed this lacy top from my roommate and was excited to wear it. looking back this may have turned out best with just the lacy top. anyway, fashion is constantly about trial & error!
for summer: sweats are sporty as is, and the baseball cap + tennies combo set off the athletic aspect even more. the floral pattern of my shoes and the chunky necklace re-enforced some girly elements that kept it from being too Sporty Spice (though, for the record, she was my patron saint SpiceGirl.) I loved this outfit!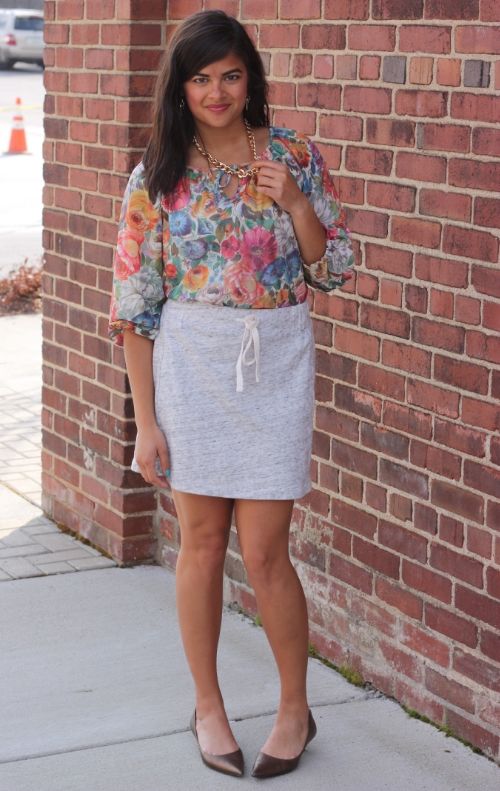 for spring: for my final installment of my sweatskirt, I wanted to go as "glam sweats" as possible. after extensive research (via Pinterest) I realized I needed a girly blouse, heels, and a statement necklace. so I literally found the girliest blouse I have, balanced it with some kitten heels for work, and a chunky chain that wasn't too overwhelming for the busy print. love how this turned out.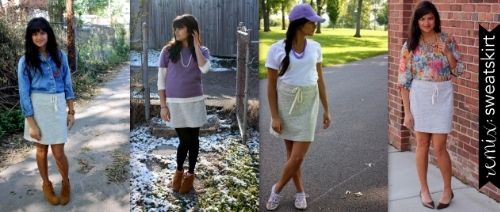 and there you have it, a sweatskirt for all seasons! since this skirt is as comfy as it is versatile, I'll keep on rockin' this party eight days a week.